Contact Us
Eudemonia
2154 University Ave
Berkeley, CA 94704
Call us during business hours:
510-883-0814
Email us any time:
info@eudogames.com
Store Hours
| | |
| --- | --- |
| Monday | noon – 11PM |
| Tuesday | noon – 11PM |
| Wednesday | noon – 11PM |
| Thursday | noon – 11PM |
| Friday | noon – 11PM |
| Saturday | 11AM – 8PM |
| Sunday | 11AM – 8PM |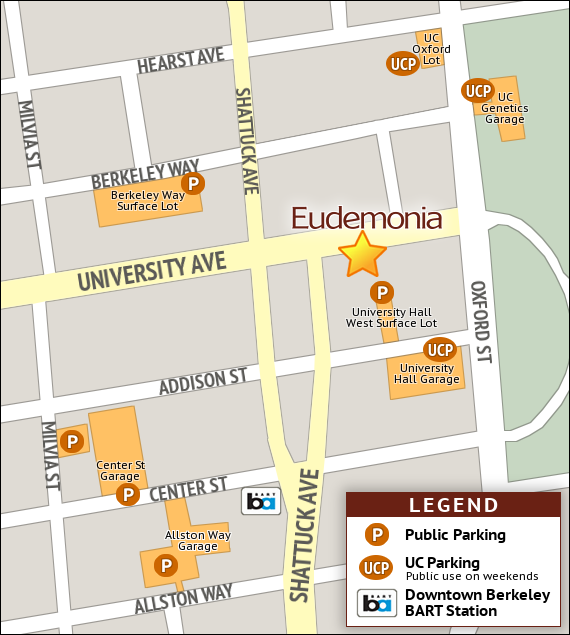 Street parking is available throughout downtown Berkeley, and there are several parking garages nearby (marked on the map above).
You can also park at any BART station and take BART to the Downtown Berkeley station, which is just a few blocks away from Eudemonia. Nearby BART stations with parking include Ashby, North Berkeley, and El Cerrito Plaza.
Magic Counter Hours
Our dedicated Magic: The Gathering™ singles counter has slightly shorter hours. Outside of these hours, we are unable to buy or sell any Magic singles.
Alternatively, you can order singles from our online store and pick them up any time during store hours, or have them shipped to you at home!
Monday
noon – 4 PM
5PM – 8 PM
Tuesday
noon – 4 PM
5PM – 8 PM
Wednesday
noon – 4 PM
5PM – 8 PM
Thursday
noon – 4 PM
5PM – 8 PM
Friday
noon – 10 PM
Saturday
noon – 4 PM
5PM – 7:30 PM
Sunday
noon – 4 PM
5PM – 7:30 PM